Very low payout limit and low fees characterize this bot. . Earn daily Crypto coins with just a few clicks on your smartphone. All the day long are new tasks available and so your are able to fill your own wallet with some different crypto currencies very fast.. This bot comes up with the option to choose from five different crypto currencies.
What is the BTC (Doge/ZEC/LTC/BCH) Click Bot?
One of the best Telegram bots out there with low fees and a very low withdrawl limit.
A Telgeram advertising bot, earn coins while you do very simple tasks like visiting websites, Join Telegram groups or try out other bots. The bot is available in five versions for Doge (Doge Coin), ZEC (Zcash), BCH (Bitcoin Cash), LTC (Litecoin) and BTC (Bitcoin).
The report only applies to the DOGE Click Bot, ZEC Click Bot, BCH Click Bot, LTC Click Bot and BTC Click Bot! General information about Telegram bots, the advantages, and risks are written down in general description of Telegram Bots.
This report mainly refers to the variant with Doge Coins, however for the four other crypto currencies (ZEC, BHC, LTC and BTC) it's nearly the same.
Pro:


new tasks are always available


five different crypto currencies


in groups or channels you only have to stay for a few hours


Withdrawl even for very small amounts


Payout to all wallets


low fees


very reliable
Cons:

only three different types of tasks

the earnings are only displayed after the task was done
Operation of the Doge Click Bot:
This bot is very easy to understand and self-explained.
After starting the bot with "/ start" every step is clearly explained in English.
the main menu.



Three different tasks are available
"🖥Visit sites"
this task is very simple, simply click a specified url (website) and wait around 10 Seconds to get the coins. Sometimes there will be a countdown up to 60 Seconds in the open browser tab, Most of the time, you can leave the page and wait for confirmation in the bot itself. The first 2-4 tasks every few hours are paid highest.
"🤖Message bots"
to earn this reward, an advertised Telegram bot must be started , the welcome message, must simply be forwarded to the Click_Bot and the coins will be credited to your account.
"📣Join chats"
here you have to join a Telegram channel or group. After a short confirmation via the "joined" button, ClickBot will check, whether your Telegram name is entered in the group. After confirmation, you will be shown after what time in the group (between 1-24h) you get the credit.
Attention, you quickly lose overview about the joined groups and channels.
"💰Balance"
here you can view your amount of coins, Withdrawl and deposit is also possible within this tab- Also you can find a transaction history.
"🙌Referrals"
under this menu item you will find your "advertising link", the referred friends and your earned coins through them.
"⚙️Settings"
basic settings can be made here, wie "allow NSFW", this means adult content 18 Years, the captcha type and whether an alarm is generated for new tasks. Captcha queries were extremely rare for me during the test phase, only when I opened websites too fast with three different bots, for example.
"📊My ads"
within this menu item you are able to generate your own ads directly via the bot. During the creation of the ads you will be guided through the menu, for example the advertisment for an another bot: Minimum budget of 6.844 Doge with a click amount of 0.109 Doge
Only a few coins to get up your own ads and they are online very fast.

In principle, very simple and understandable.
IMPORTANT:
This note is for all Telegram bots: please pay attention to the offered advertisements! EVERY user can easily place ads, so there is a lot of rubbish and scam in the content.
A payout in the past is not a guarantee of a payout in the future! Many bots are simply discontinued, if they become unprofitable for the operator.
Doge Click Bot withdrawals:
The payout minimum is very low in all kinds of this bot (3 Doge / 0.00035 ZEC / 0.0004 LTC / 0.0001 BCH / 0.00003 BTC (3,000 satoshi)) and is credited to the wallet within a few minutes or the next day, depending on the crypto currency. Around. 0.01 Euro (Since crypto currencies are constantly moving in price, an exact specification is not possible) you will reach the payout minimum, within a very short time.
The fees are specified with the currency, Doge Coin had until September 2020 no fee, but now there is also a fee for Doge. For ZEC, BCH and LTC fees are very low.
The withdrawal limit for the BTC bot is with 3.000 Satoshi quite high and takes a long time to reach it. Most tasks only bring approx. 2 Satoshi (only the first tasks bring in a little more, but within later tasks the reward will shrink to 0,7 Stashi).
Beware of the Bitcoin payout, the fee has an extremely strong fluctuation for the same amounts:
You will be charged a blockchain fee of 0.00009005 BTC.
You will be charged a blockchain fee of 0.00035627 BTC.
You will be charged a blockchain fee of 0.00013181 BTC.
You will be charged a blockchain fee of 0.00037584 BTC.
You will be charged a blockchain fee of 0.00005873 BTC.
You will be charged a blockchain fee of 0.00005742 BTC.
You will be charged a blockchain fee of 0.00004046 BTC.
You will be charged a blockchain fee of 0.00010049 BTC.
In addition, the network fee must be added to the 3.000 Satoshi for the withdrawl.
Disbursement voucher ZEC Click Bot: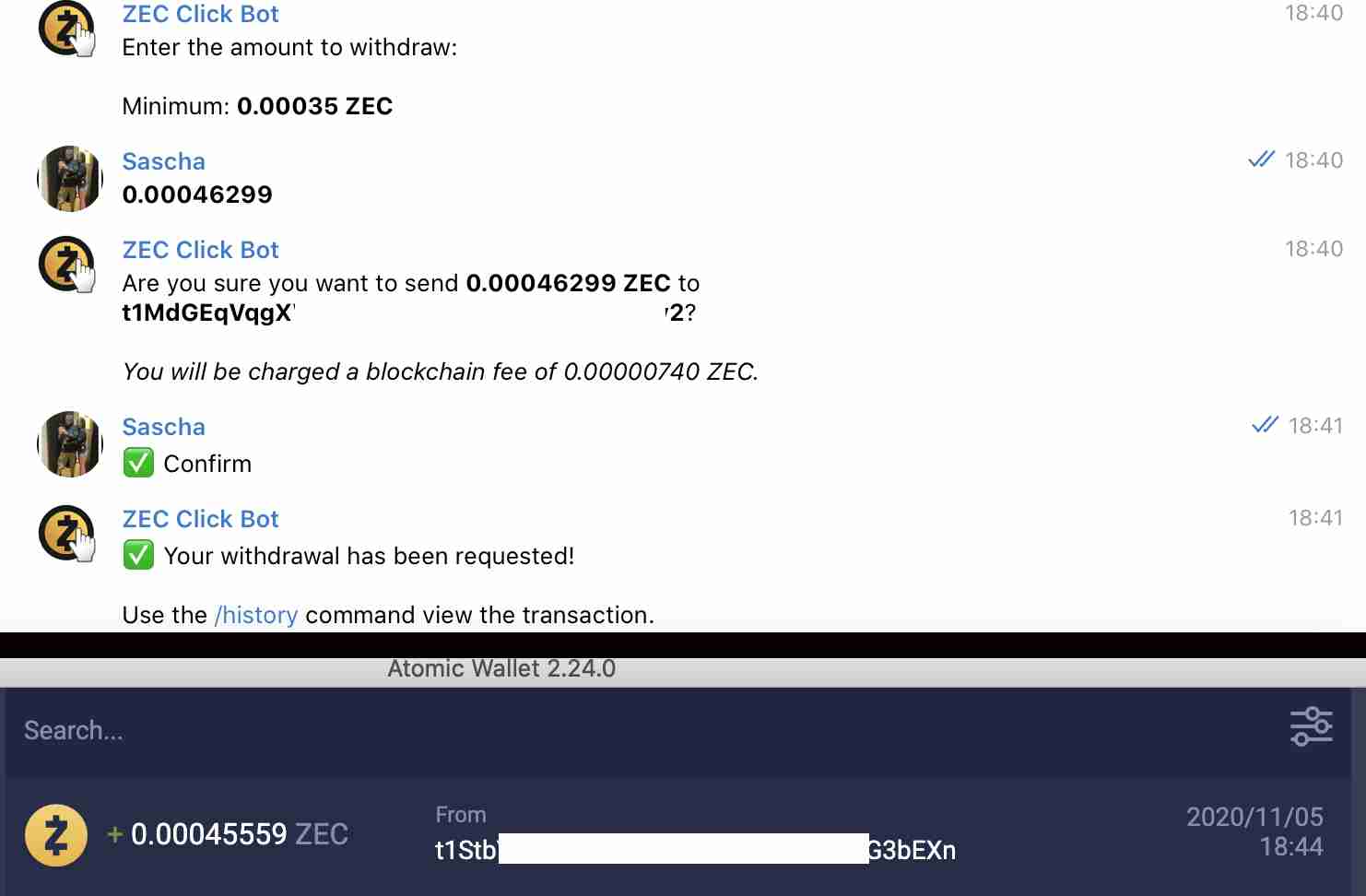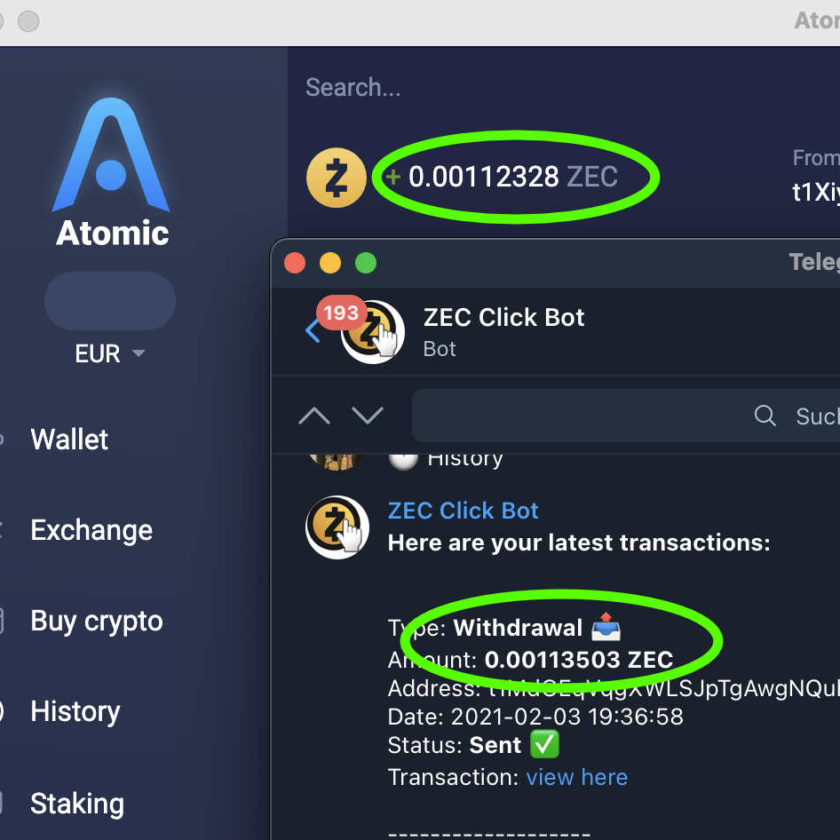 Tips for the Doge Click Bot:
during visiting websites you should stay 10 Seconds on that site, if 2 If different bots are open, you can switch between them to earn from both bots during your 10 seconds wait 2 ..
Joining channels or groups, delete them after the specified time was running out or use a second SIM card, otherwise Telegram is full of many different groups, which you probably don't want.
The first 2-3 Tasks every few hours always provide a much higher reward. You also have a simple bonus system (this applies to all five bots, that means. you got 50% achieved at Doge, do you have this at ZEC etc.). This reward system goes up to a bonus +50% and to got the bonus you need to completed at least three tasks every 24 hours and the bonus will grow 2% up. If the daily task chain is interrupted, the bonus will fall back to 0% ..
My experience:
For myself, I use the Doge and ZEC bot outside of the test period, because the payout is reached very quickly and the fees are low. In addition, these bots always have a lot of changing advertisements and it seems that the operator has actually been on the market for a long time.
Payouts were always made directly, the bot runs very quickly and stable in all variants.
Small funny pastime to "earn some Crypto Coins""
____________________________________
* Referral Link:
if you register via my link, I will got 15% of your earnings with one of the bots used. There are no disadvantages for yourself.